Sure, they're fun. What child doesn't like to bounce out in the sun or perch in a miniature home high above the ground? But before you turn the kids loose, it's important to understand that trampolines and tree houses may not play well with your homeowners insurance policy because of safety issues.
The fun that comes with a trampoline can also be accompanied by risks — hence the possibility of insurance consequences. Here are some things to consider when it comes to backyard trampolines, tree houses and homeowners insurance.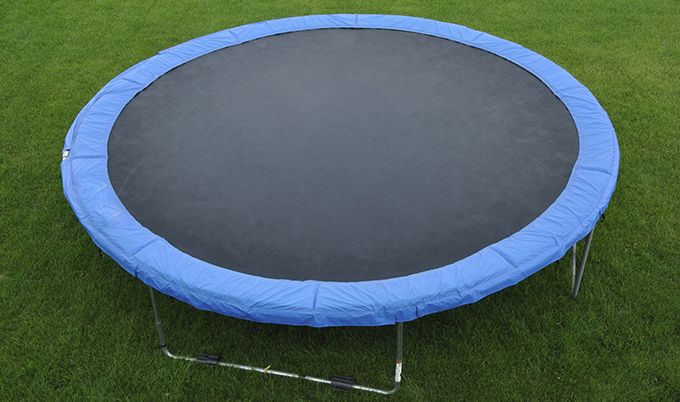 Does Homeowners Insurance Cover Trampolines?
If you're thinking about buying a trampoline, or if you've already purchased one, read your homeowners insurance policy or contact your insurance agent to learn of any terms and conditions regarding coverage for damage to the trampoline, trampoline-related incidents and any state-specific exceptions that may affect your homeowners insurance.
Homeowners insurance coverage for trampolines may vary by state and by insurance company. Generally, you'll find that coverage for trampolines is handled in one of three ways:
No exclusions: This means that a homeowners insurance policy doesn't place any restrictions on trampoline ownership or usage. So, if a visitor is injured while bouncing in your yard and you're found legally responsible for their resulting medical bills, the liability coverage in your homeowners policy may help cover the costs. Or if a storm blows through and a tree crushes your trampoline, personal property coverage may help cover the loss.
Coverage with safety precautions: A homeowners insurance policy may provide coverage (up to the limits and terms of your policy) for a trampoline, assuming you have certain safety precautions in place, according to the National Association of Insurance Commissioners. These may include a net enclosure around the trampoline or a fenced-in yard. Be sure to read your policy to learn what requirements may be in place.
Trampoline exclusion: If your policy states that trampolines are excluded from your homeowners insurance coverage, your policy would not provide protection for trampoline-related claims. In some cases, it may also mean that adding a trampoline to your property may not allow you to renew your homeowners insurance policy. Your agent can help you understand the terms, conditions and coverages your homeowners insurance policy provides.
Does Homeowners Insurance Cover Tree Houses on Your Property?
While tree house exclusions are less common than trampoline exclusions, some insurers may still have requirements that apply to your homeowners insurance. With tree houses, trampolines and other "high-risk" items you may be considering, you may want to make sure you have adequate protection by checking your homeowners insurance policy carefully or by speaking with your agent.
Other Insurance Considerations
Even if your policy offers coverage for trampolines, you may want to review your limits and decide whether your coverage limits meet your needs. Your agent can help you adjust your coverage limits or help you decide whether additional protection makes sense for you.
One way to increase coverage for tree house-related injuries is through a personal umbrella policy (PUP). A PUP provides liability coverage above the limits of your homeowners insurance policy — generally up to $1 million. PUP protection begins when you've exhausted the required underlying insurance amount of your homeowners policy.
Contact your local agent for help determining whether you have appropriate protection in place. Then you can enjoy the peace of mind that comes with knowing you have sufficient coverage in place — just in case.
Source: https://al.st/2IAJZ2S